3
Angry Birds Card Game – Review and How to Play the Game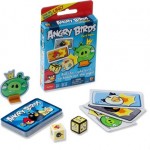 I admit, I'm not a die-hard Angry Birds Fan.  I suppose proof of that is that I didn't even know the Angry Birds Card Game existed until my son shouted at me, "Dad! Dad! I've gotta show you something!" We were in REI of all places and he pointed to this card game as said, "I want that, can we get it!!??"  Being the shrewd internet shopper I am, my mind quickly ascertained that I could surely get it cheaper online.  Even though it was less than $10, I was thrilled at the opportunity to save wherever possible (I actually found it for $2 cheaper online, shipped).
Since I Christmas was just a few weeks away (and I knew this would make a great stocking-stuffer) I told my son we'd have to hold off on getting it.   We have started the family tradition of celebrating St. Nick's around December 6th, and so this was the gift we had included in my son's stocking.  He was THRILLED to get it!  In this day and age of expensive video games, I thought it was pretty cool to be able to find something for less than $10 that would create such excitement.
Of course the true test would be whether or not the game was actually any fun to play.  At first glance, I was expecting this to be just like UNO, only with an Angry Bird Theme.  But after reading the rules and playing a few times I was quite pleased that this isn't a clone of UNO and it does a good job of putting the Angry Bird elements into a card game.
Description of Angry Birds Card Game from the Manufacturer
"From the makers of UNO. Based on the on the best-selling phone app game, Angry Birds. The survival of the Angry Birds is at stake. Be the first person to strategically topple the structure cards by rolling the right bird on the die. Then knock out the pigs with the flick of a die to win in this quick-play game based on the super popular phone app. Includes Angry Birds playing cards and Dice. For 2 to 5 players."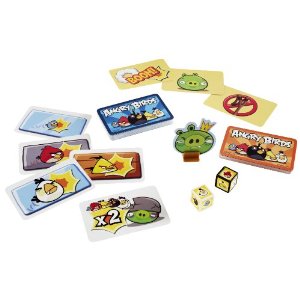 Contents
Just as shown in the photo, you get:
– 36 structure cards
– 20 special power cards
– 2 dice
– 1 King Pig
Object
The object of this card game is to discard all of your structure cards and be the first person to knock down the King Pig with a flick of the die!
Set Up
The first thing to do is to place the King Pig into the provided stand.  You don't need him right away so you can just set him to the side for now.  Then you can shuffle the Power Cards and deal 2 cards to each player.  Next, shuffle the Structure Cards and deal 6 to each player.  After shuffling both the Power and Structure cards you can place both piles face down into separate draw piles.
Here's were a bit of strategy comes into play (though it's still up to the roll of the die).  Your job is to look at your 6 structure cards and place them in the order that you want to "know them out."  You want to place them face up (so everyone will see), in a vertical column (this is called your "Castle").  The card at the bottom will be the one you'll try to know out first.
You can look at your special Power Cards but keep them face down (so you'll be the only one to see them).
[wppc id="1″]
How to Play Angry Birds Card Game!
If you're the youngest player, you get to go first!  You begin your turn by rolling the dice.  Your goal is to try and "knock out" each of your Structure Cards, one at a time, beginning with the Structure Card at the bottom of your vertical column (Castle).  In order to knock out a Structure Card you must roll the Angry Bird shown on the card.  Remember, you must knock out you cards in order, beginning with the one closes to you.
So if your first card is a 'red bird' then you need to roll a die with at least 1 red bird on it.  If you knock out a Structure Card then you can remove it from your Castle and place it on the discard pile (for Structure Cards).
Note:  If you happen to roll the Angry Birds needed to knock out both the 1st and 2nd cards in position, you may remove both Structure Cards.  Keep in mind though that you MUST go in order.  You can't knock out card number two until you've knocked out the Structure Card before it.
If you fail to knock out any Angry Birds (Structure Cards) then you still have the opportunity to play a Special Power Card.
VIDEO: How to Play Angry Birds Card Game
[trafficplayer_skin padding: 28px 0 0 68px; margin: 0 auto; width: 652px; height: 411px; background: url(http://reviewsbylance.com/wp-content/plugins/traffic_player_free/images/skin4.png) no-repeat top left; text-align: left;][trafficplayer_youtube_video width="578″ height="326″ src="http://www.youtube.com/embed/8P18wUoEeKQ?&autohide=0&autoplay=0&controls=1&hd=1&rel=0&showinfo=0″ ][/trafficplayer_youtube_video][/trafficplayer_skin]
Special Power Cards
The Special Power Cards are great.  They definitely allow an element of strategy to the game (which I like!).  The Special Power Cards include:
+1 Card:  You can play this card on any opponent to make them add one card to their castle from the Structure Card draw pile.  The new card goes into the first position in their Castle.  You can play this card even if an opponent still has all 6 cards.  You can only play this card when it's your turn.
Pig Card:  You can play this card on any opponent to give them one of your 2x cards.  This new card goes into the 1st position of their Castle.  You can only play this card on your turn.
Re-roll Card:  You can play this card to re-roll dice on YOUR turn OR to make any opponent re-roll the dice on THEIR turn.
BOOM! Card:  You can play this card to knock out one of our Structure Cards instantly.  You can only play this card when it's your turn.
No Launch:  You can play this card to make any opponent lose their turn.  You can play this card at any time.
Winning the Game
Once you've removed all your Structure Cards, the next step is to knock down the King Pig piece.  You'll want to place him at least 2 feet away from you on the table (or floor, your neighbors airplane tray, or wherever you might be playing).  Your goal is to flick (not throw!) one of the dice at him in hopes of knocking him down.  Everyone loves this part!  And of course, the first player to knock down the King Pig Wins!!
So Is the Angry Birds Card Game Any Fun to Play?
In short, Yes!!  I was impressed by the fun factor.  Whether you like Angry Birds or not, I think this is a card game anyone (kids in particular) can enjoy.
Pros and Cons
There were several things I liked about this game.  First, it's pretty easy to learn how to play.  There were a few things we overlooked the first time around, but after re-reading the rules a second, and third time we were pros!  Second, I like that there are a few elements of strategy such as how you place your Structure Cards and the utilization of your Power Cards throughout the game.  The game is simple enough that younger kids can play without much though, while older kids and adults can enjoy the little bit of strategy involved.  I love that to win the game it comes down to skill.  You've got to click that die and known down the Pig.  We created some variations of this to suit the varied age and skill levels of our family.  I would put the King Pig about 6 inches from my 6 year old daughter, 1 foot away for my 8 year old son, and I stuck with the recommended two feet (though I think I'll try 3 feet next time, Yeah!!!)
I like that the game is compact (it's easy to take on a trip or vacation) and it's also a fairly quick game to play.  It depends a bit on the role of the die, but you're looking at anywhere between 5-15 minutes a game (approximately).
I think the one possible negative to the game is the dice flicking.  For some kids (including my own) this can be a source of frustration (if they can't get their wee little finger to flick the die).  But as I mentioned previously, you can change some things to help accommodate them such as moving the King Pig closer and give them more tries.
Recommended Ages
The game says this is recommended for kids ages 5+.  I'd day that's about right.  My 6 year old needed some help but had fun playing with us.  My 8 year old just loves anything to do with Angry Birds (he even has an Angry Bird stuffed animal he sleeps with!), so he loves the game.  My other daughter who is 10 finds it ok, but it's not something she would go out of her way to play.
Conclusion
For the value and fun factor I gave this 5 Stars (particularly if you're an Angry Birds Fan).   If you're looking for something simple and fun that the whole family play even if you don't have a lot of time, then I would highly recommend the Angry Birds Card Game.
[rating:5/5]

You can find out more about Lance at Google+