5
VIZIO VHT215 Home Theater Sound Bar with Wireless Subwoofer Review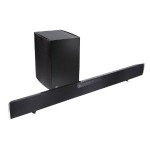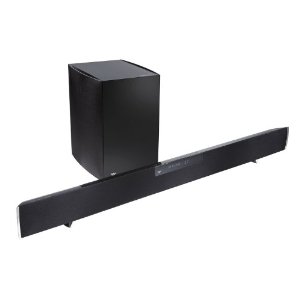 If you're looking for a solid and comprehensive review about the VIZIO VHT215 Home Theater Sound Bar with Wireless Subwoofer you've come to the right place.  More and more people are interested in Home Theater products.  A lot of people (including myself) have been looking for something that doesn't take up much space, doesn't cost a lot and yet sounds good.  I've had a chance not to try the VHT215 out for a few weeks and wanted to give you an in-depth review on what's good and not good about this system.
Now whenever I read reviews about home theater products (particularly things like speakers and headphones) I always wonder about the person providing the review.  I mean, sound is subjective.  What one person thinks is "Amazing!" might be pretty sub-par to someone else.  So I wanted to first give you some context about myself, and hopefully that will further help you decide if the VIZIO VHT215 will be a good fit for you or not.
In terms of surround sound systems I have typically owned a receiver with a set of speakers.  My most recent system included a 100 watt Onkyo Surround Sound Receiver and the Energy RC-Micro 5.1 Speaker System.  For about $800 this was a great system, especially considering the Energy Speakers didn't take up much room.  But, it certainly didn't sound as nice as the system I had before it which was comprised of French Triangle Speakers (Amazing!) and separate Rotel components (also Amazing!).  This was a system that sounded so good it would literally bring tears to your eyes.  After moving a few times and with having smaller kids, I needed to look at getting something that would be family friendly.
After our most recent move, we have a smaller living room now that just doesn't accommodate a larger receiver (like the Onkyo) and I knew my wife didn't like the idea of having speaker wire running around the house anymore.  So after selling that system it was just what the TV could produce.  I have a 42" Sharp Aquos from 2005.  I actually think it has reasonable sound for a TV.  Certainly not great and over time this is what drove me to look for a Soundbar Subwoofer combo that was actually worthwhile.
I have spent some time in the past checking out a few options at Best Buy.  Now maybe I'm a bit of an audio snob but normally, I wouldn't buy speakers from Best Buy.  In my opinion they really don't offer much in the way of speakers that are worthwhile.  But the longer I went without and surround sound the harder it got.  If I'm going to have to watch a Barbie Princess movie with my kids, I figure I can at least have some decent sound to listen to.  And of course, for family movie nights I really missed having the rumble of the subwoofer to add that extra depth and dimension to movies.
I started looking online at Amazon and figured surely there must be something that people are raving about.  I remember seeing the VIZIO VBS210 at Costco and after reading some reviews thought it would be worth giving it a try.  After finally deciding to purchase it I went to Costco and discovered they were all sold out… *yeesh!*  I was Soooo UNHAPPY!!  So I went back to Amazon to look at some other options.  Low and behold it looked like a new model was out… the Vizio Sound Bar VHT215.  Also, this one appeared to possibly have fixed some of the imperfections that reviews of the VBS210 spoke about.  Also, the VHT215 had HDMI connections, Yahoo!!!
I found a great deal on Amazon and decided to take the plunge!  I couldn't wait to get it and test it out.  After having it for a few weeks I've had a chance to listen to different audio material, play around with the settings and subwoofer location, and break it in a bit.  I'll go into more details about my experience with it so far, but first here are some of the basic details you may want to know.
Controls and Connections
The soundbar includes a digital info display which will show you volume level, input you're using and things like bass and treble levels.  There is a power button, input button (which you can press to change your input source), volume button and power light (which lights up when the power is on).  On the back side of the soundbar there are connection for a digital optical in, digital coaxial in, analog 3.5mm in, HDMI Out (ARC) and two additional HDMI inputs.
The back of the subwoofer has a link button (used to re-link the subwoofer with the soundbar), power switch (to turn it on and off) and power cord.
Package Contents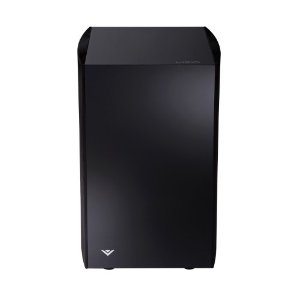 – Home Theater Sound Bar
– Remote Control with Battery
– Wireless Subwoofer
– Power Adapter for Sound Bar
– 3.5mm to RCA Stereo Audio Cable
– 3.5mm Stereo Audio Cable
– Wall Mount Brackets (2)
– Wall Mount Template
Dimensions
 40.1 x 1.9 x 3.3 inches, weight is 5 pounds
VHT215 Features
SRS TruVolume is one of my favorite features.  When on, SRS TruVolume intelligently normalizes volume fluctuations due to television commercials or channel changes.  I was a little skeptical when reading reviews and people talked about the normalization that happens with sound.  But it really works!  For me, this is a huge benefit.  Personally, I do hate how commercials area always louder than your programming so you're constantly having to lower the volume, then raise it up again when you're programming starts.  This also works great for movies.  It functions similarly to some receivers that have a "late night" movie mode which quiets loud background noises.  So again, this works especially well for my family because we can watch movies now and the sound is constant throughout.  Loud explosions don't force us to turn it down anymore.  Again, I really like this feature and feel like it does a quality job without compromising the sound quality.
SRS TruSurround is meant to provide an enveloping, immersive surround sound experience, making every seat in the room the "sweet spot."  Although it does do a nice job, I wouldn't say it's an "immersive" surround sound experience.  It's not the same as having a 5.1 system.  For instance, one of the things I miss about my Energy/Onkyo system is listening to things like the opening of Transformers 2 when the Paramount stars go shooting behind you.  I LOVE that!!  This definitely does not provide that same level of experience, but again… it's better than nothing and it does give you a bit of an immersive experience.
SRS WOW improves the audio performace by expanding the size of the audio image and creating a deep, rich bass response.  This is another feature I really like.  I leave this on all the time as I think it enhances both TV viewing and especially movies.  When I first hooked everything up I thought something was wrong with the subwoofer as the bass seemed to be waaaay lacking.  Once I turned this on it definitely filled out the sound and sounded much better.  Again, a great feature that I'm very glad they included.
Setup for the VIZIO VHT215
The setup was a little more challenging then I expected.  I think that was because of the confusion I had about the HDMI (ARC) connection.  I remember reading the reviews about this and I was still a bit unclear how it works or what TV's it works with.  I tried calling VIZIO support for some help on this but unfortunately they were useless.  Just like many reviews have said, you basically get someone to talk to over the phone who is trying to find information for you from a manual.  So they really don't know what they're doing or saying but they do try.  Fortunately, I discovered that SHARP customer support is REALLY good!!  It is probably one of the best customer support experiences I've had.  They not only explained how my TV worked in terms of ARC, but also helped my understand the capabilities and limitations of the VIZIO Soundbar.

Here's what I learned through SHARP's customer support.  ARC stands for "Audio Return Channel."  Basically, it means you have once HDMI connection that can function as both an input and output.  My TV is from 2005 and although it is a HDTV it isn't equipped with the latest HDMI inputs.  HDMI 1.4 inputs are the same as (ARC).   I was told that if you have an (ARC) input it will say so directly on the TV.  So in my case I was kinda bummed because now I'm not able to take advantage of the HDMI technology.
So my next thought was to use the Optical Input.  Fortunately I mentioned this to the SHARP customer service guy and he let me know that wouldn't be a good idea.  The problem with optical input/outputs is that when you play movies (like on a Blu-ray player) you won't get audio sound.  This is because the movie companies forbid the audio from being encoded.  If you have an HDMI (ARC) input/output then the encoding will work.  So if you do use a digital optical connection it will only work for TV programming.   At first I was pretty bummed about this as well, as now I would be forced to use analog (*ugh!!*) for my audio connection.  But, I did compare the analog and digital optical connections and they sound pretty much the same.  Honestly, I don't think most people would be able to tell a difference if you blindfolded them and flipped back and forth.
As far as subwoofer placement, I tried various locations in the room and ended up settling on a spot to the left of the TV next to our TV stand.  Unlike quality subs I've had in the past, this one sounds a bit "boomy" and annoying if it's placed to close to you.  But I found placing it near the TV gives it enough room to sound pretty good.
You have the option to wall mount the Sound Bar but I have mine sitting right in front of the TV on the TV stand and that seems to work great.  There is an option to hook up to 5 different devices to your soundbar.  For example, you can have it interdependently hooked up to your XBox 360 (or other Gaming Console), a network media player, a laptop, a cable/satellite box and a Blu-ray player.  I just have everything playing through the analogue connection for now as that keeps things simple and it still sounds great.
If you have a universal remote you can try and program it to control your Sound Bar.  I don't have one so I wasn't able to try that out, but they give you both a 5-digit and 4-digit programming code.  They also provide a table to show you how most universal remotes will function in how they control the Sound Bar.
I like that the remote is small and I find it easy enough to use.  The front of the remote has buttons for power, volume, previous or next track, and mute.  There is another portion of the remote which slides out the bottom.  It reveals more buttons for controlling: sub volume, bass, treble, input selection, optical input, iPod (press it to play input from a VIZIO wireless HD Audio product), SRS TruVolume, SRS TruSurround HD, and SRS TruVolume.
Sound Quality
Overall, I am impressed with the sound quality.  It has met my expectations and given me what I was lacking (with just my TV speaker).  There's a couple things I was really hoping for when I got this.  I wanted the sound quality to be good enough that I could enjoy a movie and not be distracted by imperfections in the sound.  I suppose you could say I like to listen to movies/music the way a food critic might taste food.  If there's something off with the sound, I won't be able to enjoy the movie because I'll become obsessed with trying to fix it somehow.  The one thing that occasionally bothers me with the VHT215 is the sub.  I find it can be a bit "boomy" at times.  I know I'm the only one if  my family who notices or cares.  So it's not something many people will probably pick up on.  But even at that, it still produces a decent bass response that makes movies and music much more enjoyable.  In fact, there are moments where it sounds really, really nice.  I was watching "The Lion, Witch and the Wardrobe" today and it has some very nice background music.  The VHT215 did a really nice job and again, there are times where it approaches what you might expect an $800 system to do.  Of course it's not at that level, nor should it be… but I finally feel like I have something that can hold me over until the day comes that I have a room I can build out a home theater system in again.
The other thing I like to listen for is how "harsh" the sound is and if you'll get "listener fatigue."  Again, I don't know if most people pay attention to this or realize it's happening but speakers that are too "harsh" just aren't worth it.  And so far, I haven't had a problem with these at all.  They seem to be clean sounding enough that you can enjoy them all day long.
If you're currently where I was at, and just have a TV speaker to listen to, I think this would be the perfect upgrade.  If you're toggling between this and a home theater system, it would depend on a couple factors.  First, I think you would want to look at spending at least $800 to have something that would be enough of a sound improvement to justify the additional investment ($400-$500 for speakers, and $300-$400 for a receiver).  If you have the money, and the space then I would certainly go the route of a home theater system.  But if you want something simple, that's more affordable, that sounds great, and will also give you a home theater like sound then this is the way to go.
Pros
I think there is a lot to like about the VIZIO VHT215.  I like the fact that there are minimal wires.  I just have two power cords and one analog wire and that's it.  I love having a wireless sub.  One improvement with this sub over the previous model is the range of the sub.  It is designed to work up to 60 feet away.  I wasn't able to fully test the range but I put it all around my room and it stayed connected just fine.  I know people have commented on the previous model loosing connection, but after a few weeks I haven't had a problem yet.
I like the variety of inputs.  If you have an HDMI (ARC) or HDMI 1.4 input then you're in great shape.  If not, there are still other options but you may find as I did that analog is the way to go for now.  I think the appearance is good.  I like that subwoofer doesn't take up much room at all.  The Soundbar is attractive.  I think there are some sleeker looking Soundbars out there but this one still looks fine.
For the money, I think the sound quality is good.  I REALLY like how well the SRS TruVolume works to keep sound levels consistent.  Having this feature with some good quality sound are what I love most about this.
Cons
The subwoofer is a little "boomy" sounding at times.  Room placement definitely helps.  For instance, I wouldn't place this sub nearby to where you sit.  But honestly, if I were to pick the weakest link of this system it would be the sub.  I've had nice subs and nice systems and have an idea of what to listen for.  And granted, the audio from the Soundbar isn't perfect, but to me it's imperfections aren't as noticeable as the sub.
If you don't have an HDMI (ARC) input on your TV, your hook-up to the Soundbar won't be as easy unless you go with the analogue input.
VHT 215 Consumer Ratings
For the most part people seem to really like this product and are giving it 4 out of 5 stars.  Personally, I would also give it 4 out of 5 stars.  I tend to give 5 stars when I think a product or service goes above and beyond the call of duty.  In this case, I think the VIZIO VHT215 does a great job of providing a good sounding Soundbar and Sub.  Their customer service was a let down for me.  So I factored that into the whole experience as well.  If they had been more clear in their manual about how all this works I wouldn't have needed to call them.  And as it turned out, I had to lean on SHARP's customer service to help me out with this product.
[rating:4/5]
Summary and Concluding Thoughts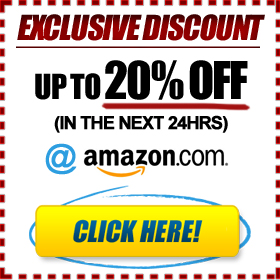 For around $250, this Soundbar/Subwoofer combo is really tough to beat.  I honestly think you would need to spend at least $800 to get something that sounded noticeably better.  But in my situation, it's not just about sound quality and experience, it's also about what my family is willing to put up with.  My wife doesn't like the look of  a big receiver, speaker wires, and speakers around our living room.  She doesn't care one bit about having an enveloped surround sound experience.  So basically this system has allowed me to enjoy movies and TV again.
I hope this review has been helpful.  Feel free to leave comments below with any questions you have, and I'll be happy to try and answer.  Click here for today's best price on the VIZIO VHT215. You can find out more about Lance at Google+