PS4 vs Xbox One Review! Side-by-side comparison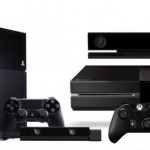 PS4
vs

Xbox One! What you need to know

For those of you who want to know who wins the battle between PS4 and Xbox One, here's my full review and side-by-side comparison. I want to give you everything you need to know about both gaming systems so you can see exactly which one is gonna be the best for you.

To start with we have the Playstation 4 which will be coming in at $400 and will be released on November15 in the United States and November29th in Europe. Included with the Playstation 4 is going to be the controller, the HDMI cable, as well as a pair of ear budswhich will double as your headset.
Video Review for the Xbox One
 [youtube]http://www.youtube.com/watch?v=V0ao2t5uaQI[/youtube]
Moving on to the Xbox One, it will run you $500 and will be released sometime in November or early 2014 in some parts of the world. In the Xbox, included is the new Kinect, a headset, controller and HDMI cable. I was able to try both consoles and controllers at E3 this year.
The new dual-shock for the Playstation 4 is the major improvement over the last version. As now it's a little bit bigger but more importantly it's a lot more ergonomic so it's much closer to the Xbox 360 controller than the PS3. It also does have a touchpad in the center of the controller as well as a built-in speaker. However, I still prefer the Xbox One gamepad. It's very similar to the Xbox 360 controller, which is a good thing although they have tweaked a lot of the ergonomics as well as improved the d-pad. It also now does have rumble motors inside the triggers as well as no more hump for the batteries on the back of the controller.

How Do The Consoles Differ?
Moving on to the consoles, something that's hard to tell from pictures is that the Playstation 4 is much smaller than the Xbox One. So this is even more impressive when you consider that the Playstation 4 has its power brick built-in whereas the Xbox One, being much larger, also has a giant power brick to go along with it. As far as specs go, they're very similar as both the Xbox One and PS4 have 8 core amd jaguar cpus ___ ram 1.6 ghz as well as integrated amd graphics.
The PS4 does have the graphics advantage with both a 50% larger gpu as well as 8gb of faster gddr5 memory as opposed to ddr3 in the Xbox One. Both consoles can play both blu rays as well as DVDs and of course game discs. If you guys go the digital download route, all games will be available day one on both consoles. However as far as these digital downloads go, some of these can be absolutely massive, up to 50gb at times.
The store of these massive games
Both the Xbox One and the PS4 come standard with 500gb hard drives. However just like the PS3, the PS4 does have the usual replaceable hard drive. So if you like, you can swap that out with something else.

Motion Controls
As far as motion controls go like I said earlier, the Xbox One does come standard with Kinect although that's not mandatory and you don't even have to plug it in if you don't want.
Now the Playstation 4 does have the Playstation 4 eye that is actually an accessory which will run you about 60 dollars. Unfortunately there's no backwards compatibility so you won't be able to play your 360 or PS3 games on your new console. However, Sony does have streaming planned for the PS4 which will allow you to stream PS3 games online. However this is just a plan. I will see if that actually shows up.
In this generation, online gaming is going to be paid both on the xbox and the Playstation. That of course will be Xbox live for the Xbox One and Playstation Plus for the Playstation 4. Now these are going to run you 50 dollars for the Playstation Plus per year and 60 dollars for Xbox Live per year. Both of these do come with free games every month.
Further Explanation About PS4
[youtube]http://www.youtube.com/watch?v=0a6cjcB085s[/youtube]
 If you have a 360 or a PS3, you can bring over your Xbox Live or PS3 Plus membership to your new console which will bring all of your trophies and achievements over. However you will not be able to play any of your digital games unless of course you're using your old console.
Just like the 360 if you don't pay for live on the Xbox One, you are losing out on some features including Hulu, Netflix, and the ability to record and stream your games. Whereas all of these features are free on the PS4 regardless if you pay for Playstation Plus or not. However, the Xbox One does have an nfl app and as well as Skype built-in.
Alright so that was a lot of information. So basically right now at least on paper, the PS4 is looking solid. Not only is it smaller but it's also more powerful and a hundred dollars cheaper than the Xbox One. However next time, I will go over the games which of course is a big reason why you might wanna buy the PS4 or the Xbox One . But definitely be sure to let me know what you guys think. What are you leaning towards? PS4, Xbox One? Pros? cons? All that kind of stuff. Definitely be sure to let me know what you think in the comments below.
So that's it for now! Thank you for checking out this review and I hope you enjoyed this side-by-side comparison of the new PS4 and Xbox One!
To learn more about video games you can check out this article from Wikipedia. You can find out more about Lance at Google+