Google Chromecast Review! Full review of the Google Chromecast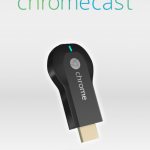 This is the full review of Google Chromecast. There's a lot of cool things about this product. It is a very simple product but it does provide a lot of implications about the future of what Google will be focusing on.  Basically Google Chromecast is a dongle that you plug into your TV by HDMI.  This turns your TV into a smart TV… well, sort of.
According to the box, it says it's the easiest way to watch online video on your TV (and I would agree with that). But, it does a bit more than just video, which I'll talk more about soon.
When you first get it, it comes in a nice looking box. When you open the box you'll see all the instructions you'll need to set it up on the inside cover.  You only have to set it up once, and it literally took me about 2 minutes flat to get it working. So set-up is pretty easy.  Included with your Google Chromecast is an AC adapter for power (if you're not able to get power via your TV's HDMI port). Most newer TV's all have powered HDMI ports so this shouldn't be an issue. Also you'll get an HDMI extender (in case your HDMI port is hard to reach).

The Chromecast itself is pretty small. It's just a dongle. The HDMI port is on one side to plug it in, and the other side has the USB input for power. There's also a small reset button on the other side.
As a side note, Chromecast and just about everything inside of it is based on Android and not Chrome (this makes the logo and the name a little bit misleading).
Installation
You simply plug it into the HDMI port on your TV.  You then hook up the power, which can be either from another HDMI port on your TV or from the wall (it doesn't matter which one you use).  You follow the 2-minute set-up guide and Whalla! You're ready to go. The set-up is about as easy as it gets.
Recommendation
This is definitely a smart buy for anyone that doesn't have a smart TV but would like one.  This is everything the NEXUS Q wanted to be but wasn't able to be, particularly because the price wasn't right. Right now these are kind of hard to get and they're only available in the US (if you want to buy Google Chromecast you can click the link below the video for today's best price online).  Bottom line, to be able to make your TV a smart TV for $35 is a smart purchase and worth having.
FULL VIDEO REVIEW OF THE GOOGLE CHROMECAST
[trafficplayer_skin padding: 28px 0 0 68px; margin: 0 auto; width: 652px; height: 411px; background: url(http://reviewsbylance.com/wp-content/plugins/traffic_player_free/images/skin4.png) no-repeat top left; text-align: left;][trafficplayer_youtube_video width="578″ height="326″ src="http://www.youtube.com/embed/TK4u6wm-HIk?&autohide=0&autoplay=0&controls=0&hd=0&rel=0&showinfo=0″ ][/trafficplayer_youtube_video][/trafficplayer_skin]
Click here to get the Google Chromecast on Sale