2013 Full Nexus 7 Review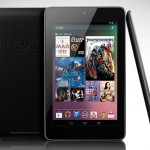 The new Nexus 7 is very good. If you remember the first Nexus 7, it was one of the most popular Android tablets of all time. Mostly thanks to it's bang for the buck ratio. You got a lot of tablet for a very low price. So now we have the brand new Nexus 7 for 2013.
While there are a lot of minor improvements, there are 3 main reasons why this tablet can be considered the best android tablet you can buy right now (for any price). So let's continue to my full review of the 2013 Nexus 7.
The first of the three things that make this tablet so great is the form factor. This is of course a tablet with a 7" display and it's sort of a mid-size device that puts it right between one-handed and two handed use. If you want to type out a long email or something you can use two hand on the keyboard. Or if you want to just scroll through a magazine or use it casually you can just use one hand. A lot of this is because the Nexus 7 is so light, coming down to just 290 grams.  This is slightly lighter than the iPad mini even though it's about the same thinness as the iPad mini (which is pretty impressive).
Complete Hands On Nexus 7 Video Review
[youtube]http://youtu.be/wEpMtf6nJco[/youtube]
Overall it's very comfortable to hold. It has that soft touch back with gentle curves in your hand. And it also happens to be a very well-balanced tablet which is harder to do than you might think. It's not top heavy or bottom heavy. The battery is just about where you'd want it to be (which I'll talk more about later). So now matter how you hold it, it's a pleasure to use.
Now there are some notable changes to the outside when compared to the old Nexus 7. Those are the bezels, the speaker and the camera on the back. The bezels are indeed thinner on the side but bigger on the top and bottom, which actually makes it a bit narrower and taller. And at first glance you might think "oh, those unsightly bezels, why did they do that, it looks so ugly." But when you start using the tablet you soon realize these bezels are really the only place to put your fingers when holding it in landscape mode, watching videos, gaming, etc. So it's really a good thing they put these there for easier use.

The speakers are new and they're pretty good. They're stereo speakers located on the opposite sides of the back of the device. Now yes, they are still backspacing speakers and as someone spoiled by the Nexus 10 front facing speakers it's kind of hard to go back to these rear facing tablet speakers.
But on the whole these are quite nice at normal volumes and start to distort a little bit at higher volumes. I think this is one of the parts of the tablet they skimped a little bit to save money and tried to enhance it after the fact with some virtual surround sound software. Unfortunately, it didn't really work. These are just normal sounding stereo speakers.
And now onto that 5 megapixel rear facing camera. I just want to say it's a camera on a tablet. I wouldn't expect it to be good in any way. And at this point it kind of confuses me why they chose to include it. The images and video it takes are kind of muted in color and not very sharp. Of course if you have this tablet with you and need to take a picture of something it would be better than nothing, but I just wouldn't rely on it as your go-to camera.
The second thing that makes this camera so magnificent (and this is easily my favorite feature) is it's new display. It's not only a great display for a tablet that's only $230 it's a great display for a tablet, period. I love the Nexus 7's new display. Anyone who loves pixels with me will love it to. It's a 1920 x 1200 panel which gives it a pixel density of 323 pixels per square inch. That's the sharpest of any tablet on the market right now. It also has the best viewing angles and colors of any tablet on the market right now. It's also an IPS display that gets brighter than any other tablet on the market right now. It's just phenomenal. It's totally responsive. Every time I turn it on I smile a little bit because using a tablet with a display like this is such a pleasure. It makes you never want to turn it down.
That leaves the third and final reason why this tablet has stolen my heart, and that is the operating system. It's a Nexus. Now I've used a lot of Android tablets and phones out there and there are a lot of great Android skins on phones that are actually catching up to the fluidity and experience from stock Android. But there is NOTHING else, nothing that comes close to a Nexus experience on tablets right now. I have serious trouble recommending an Android tablet that isn't running stock Android or something close to it. Nexus 7 is no exception. It performs beautifully well. Inside of it is a 1.5Ghz sort of beefed up Snapdragon S4 Pro which is a great chip. It also comes with 2GB of ram. But by the way it performs and handles all of the simultaneous apps, multitasking, responsiveness  and general everyday use I really don't care what's inside because this things just kicks butt.
Overall new customizations and trim support especially are a home run on this tablet. It's so much fun to use. In fact, I think fun is a great way to describe this tablet. I found that if someone recommended an app or something for me to check out I could just download it, install it and start playing it in a matter of seconds without any hint of any sort of a delay.  Which is great, I've had a lot of fun using this tablet and it really nails the experience. The performance with the graphics is great. All of the reflections, physics  and live rendering going on with certain games is handled flawlessly. This is as high end as it gets right now. If you want to play games, this tablet is so lightweight it's almost a no-brainer thanks to the form factor.
Now all of this awesome stuff comes with one downside. Remember how I told you the Nexus 7 is the same thinness as the 1st gen iPad mini? It's thinner than last year's Nexus 7 which means it also has a smaller battery in physical size. We're looking at a 3,950 million power  battery here. This all means it won't last quite as long during regular constant use. You'll probably get 8-9 hours out of it. What's nice is that it burns almost no battery power in standby mode. I had one night where I forgot to plug it in at 27% and I woke up the next morning and I was at 26%. So it's also just a power sipper when it's in standby. It's also compatible with the chief standard for wireless charging. So if you pick up a couple wireless chargers you can put them at a few convenient locations like your office or at home. Then you never have to worry about battery life.
But again, this tablet is so much fun. You'd be hard pressed to find something that's genuinely bad to say about it. I've been using this tablet so much since having it and I honestly think you will too. So at the end of the day, this Nexus 7 is another great tablet and it's got a lot of reasons to upgrade to it over the old Nexus 7 or any other Android tablet out there. The price is good, the performance is great, and the display is simply phenomenal. I would recommend this tablet to just about anyone.
I will actually be switching to this as my main tablet from the Nexus 10 I was using previously. Simple because it's a lot smaller and more portable. I love the Nexus 10 display but I now also love the Nexus 7 display and this is more portable. For students, this works great if you want to put all your textbooks on this and not carry a bunch of books around all the tie.
If you're interested in purchasing this tablet you can click the link above to see the best price available online.
You can find out more about Lance at Google+