7
BendBroadband vs CenturyLink – Who's the best internet provider?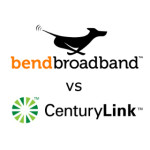 After living in Bend, Oregon for over 5 years now and having experienced both BendBroadband and CenturyLink, I wanted to help you figure out which one might be the best choice for you and your situation. There's actually not a clear winner here as there are a few factors which will determine which one you should go with. Now keep in mind that in some situations, neither of these will be a great option. Still, I want to help you figure out which one will give you the best experience.
Now if you're rather just talk to someone on the phone and have them help you figure all this out, I HIGHLY recommend you give The Signal Spot, here in Bend a call. Out of all the folks here in town to work with, I've found they do the best job of listening to your situation and then making a recommendation based on what you need or want and what's available here in Bend. They're also not afraid to tell it to you straight, and give you all the pros and cons of the various options you have to choose from.

When I first arrived in Bend, here with my family, having reliable internet was key! At the time I was working from home, providing a coaching service for college students over the phone. It was critical for me to have an internet service I could rely on and not have to worry about it not working or working sporadically. Having to miss meetings with clients or being in the middle of a meeting with a client or student and having the internet fail would be unacceptable.
It became clear that the two main choices here in Bend are CenturyLink and BendBroadband. I'd read about some issues people had with CenturyLink and because you're committed to a year contract with them so initially I decided to go with BendBroadband. At the time, I wasn't sure if they were the best choice or not, but felt they were the safer choice.
My Personal Experience with BendBroadband
When I started out with BendBroadband, I used them for internet and cable TV. In this article, I'm just going to focus on the internet aspect but If you're interested in a comparison of BendBroadband (cable TV) vs Dish vs DirecTV then you can click here to read that post. For new customers they typically have some promotion going on. BendBroad's promotional internet service pricing depends on whether you're just getting internet or adding an additional service such as phone or cable TV.

For example, if you want to go with the Bronze level of service, and if you're just ordering their internet service then you would get their promotional pricing of $34.99/month for 1 year. After that first year is up, then your rate would increase to $52.99/month.
The other example would be if you added an additional service like cable TV, then your promotional rate for their internet service would be $34.99/month for 2 years. After the two years is up, your promotional pricing would increase to $42.99/month.
Now when my initial promotional pricing was up, I called them about potentially canceling because of the rate increase. They then offered me discount pricing for another year which was great. Now I can't guarantee they'll do the same for you but they seem interested in trying to keep you as a customer so I would expect they'd be willing to offer you something if you called them about that once your promotional pricing is up.
BendBroadband Internet Package Features
The features of each package has improved since I first started with their service. I started out with the Bronze internet package, and initially they only provided 150 GB usage allowance. So I actually ended up canceling our Netflix service because this was causing us to go over our 150 GB and that gets costly, pretty fast. However, things have improved and as you can see from the image below, the Bronze internet package now gives you 200 GB of usage each month.

Something to be aware of though is that the amounts given for download and upload speeds can REALLY vary. For example, while on the Silver plan (which should give you a 25 Mbps download speed), I once got 29.96 Mbps, but otherwise received download speeds between 4.47 Mbps and 13.23 Mbps. I'll go into more detail about this later but it's very possible you'll get download speeds lower then what you think you're paying for.
BendBroadband Customer Service Experience
Overall, I'd say my experience with their customer service people including billing and tech support was ok. I found that whenever I called, for the most part people seem friendly and relatively helpful to talk to, but it really depends on the type of problem you're calling about.
Example 1
You're a new customer and are in your first month or two of service. You previously had an internet service provide that had no usage cap and don't have any idea how much data you/your family uses each month. So in your first month or so, you get a bill for quite a bit more then you expected as a result of going over your usage cap.
This is a good example of how BendBroadband will take care of you and not say something like "oh well" as other companies might. I was in this situation and they credited me back everything they charged me for additional usage I had over my cap. They were kind and friendly about the whole thing and in the end, it was no big deal (though when I first got the bill it seemed like it).
Example 2
You're confused about something on your bill or have a general service related question.
I found that these more "concrete" situations were great to contact BendBroadband about because it was easy for them to help and they're happy to provide any information they can to straighten everything out.
Example 3
You're internet speed seems "wonky" and you notice it drops in and out or you're having to reset the modem every so often.
In these situations, the people you speak with are still generally friendly to speak with, but not often helpful. And this is either because they don't have the knowledge and skill to help you or they're not empowered to tell you the information you need to know in order improve your internet service experience.
And this is the part that aggravated me as a customer because I get tired of calling and having them try to switch me to a new channel (if channels become too congested then everyone on that channel will experience a decrease in their internet speeds), which helps for maybe a few hours, a few days or a month or two. But then my neighbors around me are calling about the same problem so then then get switched over to the channel I'm on and we start clogging each other's speeds again.
I had a conversation with one of their reps once where they said the area I was in needed to have more lines to help people get better speeds. They told me it was something they were working on but didn't know when it would be improved. So as a customer, again that frustrates me because they're offering me a subpar experience (and they know it), yet they still want me to pay the same amount as everyone else.
I used to co-own a franchise business and whenever we had a customer service experience like this, we would find a way to provide additional value to them in order to make up for the service deficiency they were experiencing. It was our way of not just saying we valued our customers but proving it.
Unfortunately, BendBroadband doesn't quite live up to all their marketing about "we're the local guy, so we better be good." To me that implies stepping up to the plate, to take care of your customers when your not delivering. But I suppose it's possible that they have SO MANY deficiencies going on that they would go out of business if they tried to do the right thing in taking care of all their customers… who knows for sure.
My overall thoughts on BendBroadband
After everything I've been though with them, the good and frustrating, I'd say they're solid 3 out of 5 stars type of company. I'm knocking 1 star off for price and value and another star off for their ability to provide reliable, high speed internet. They do an ok job of this, but it's definitely not great.
Most of the time I could connect to the internet, but this is not the 90's so I really expect to have a reliable, stable internet connection. This should be what's normal. Instead, having inconsistent internet speeds and needing to reset your model is what's normal for BendBroadband.
My Personal Experience with CenturyLink
To be perfectly honest, I was scared and skeptical about getting internet service through CenturyLink. There are several reviews of people complaining about their internet service and add to that the fact that you're on a year contract with them and you'll understand why I didn't start with them.
But after getting tired of being frustrated with BendBroadband I eventually reached a tipping point where I decided to give them a try (and I'm really glad I did).
CenturyLink Internet Service Cost
If you go to their website, it's rather confusing trying to figure out how much internet service costs. You keep seeing $19.95 all over the place but that's only available if you bundle your internet service with other things (like phone and tv) and if you're willing to commit to a 5 year contract.
And then they give you these other options for internet service which include paying more then you need to for a slower internet speed. In other words, if I didn't know what I was doing, I might sign up for a 1 year contract at $34.95/month for 20 Mbps download speeds.
As you can see with the image on the right, they make it look like these are the most popular options available. So if you didn't know any better you might choose one and end up paying more per month, for a slower download speed.

But the reality is that I only ended up paying $29.95/month on a 1 year contract that gives me a 40 Mbps download speed. If you just want internet service and nothing else then the cost is $29.95/month. However, there are some additional up front costs to be aware of.
This again, underscores the value of having a company to talk to that can help make sure you're getting the best deal available to you (which is why I recommend talking the the folks over at Signal Spot).
When you first sign up there is a $29.95 activation fee and you will either need to lease a modem ($7.99/month) or purchase a modem ($99.99) which you can get from them or Best Buy. If you purchase a modem it has to be the CenturyLink modem (you can't just use anything you want). Also, you can install the modem yourself for free (which is easy to do, even if your not a tech savvy person) or you can pay a technician to do it for you for $59.99.
Now if you try to do all this online then you'll end up paying more then you  need to. If you try and purchase the modem through them they tack on an extra $14.99 for shipping (yikes!). They don't give you the option of buying the modem somewhere else so you're forced to either lease a modem through them or buy the modem through them and again, pay that giant shipping charge.
So the bottom line on what this should cost you if you're getting the best price possible for internet service is $29.95/month as well as a one time internet activation fee of $29.95. Then you have either a monthly lease cost for your modem of $7.99 or a one-time modem cost of $99.99. Also, sometime during your first month of service you'll want to sign up for automatic payments. This will allow you to stay at the monthly rate of $29.95  otherwise if you don't do that your rate will go up to $39.95.
After the 1 year contract is up, your rate is technically supposed to go up to the standard rate of $74/month. However, I spoke with them about this on the phone and they said you can just call when your 1 year contract is up and they'll lower you back down to the promotional rate of $29.95/month.
CenturyLink's Internet Service Features
Just like with BendBroadband, your download speed will vary depending on where you live in Bend. For example, I am able to get the full 40 Mbps download speed (which is awesome!), but someone else living in another part of Bend may only get a download speed of 7 Mbps (and yet their monthly cost is the same as mine). What you'll want to do is take their online internet speed test (which is basically just entering in your address) and then they will let you know what download speed is available to you.
Now if you're at all confused by this or if you just want someone to double-check to make sure you're getting the correct results, then I recommend calling The Signal Spot here in Bend (which is what I did) and they'll literally walk through the whole process with you over the phone to make sure you have the right information to make an informed decision one way or the other.
Internet Speed
So best case scenario is you'll get 40 Mbps download and  4 Mbps upload. Worse case scenario is that you'll get 7 Mbps download and 1.5 Mbps upload. Otherwise you might get something in-between. Your monthly cost will be the same no matter what so it's important to find this out before you commit to anything.
Usage Cap
There is no usage cap in the sense that you're billed extra if you go over a certain GB of usage per month (as with BendBroadband). But if you do go over 350 GB of usage per month, then they will throttle your internet speed. In other words, they'll slow down your internet speed for the remainder of that month.
My overall thoughts on CenturyLink
I'm REALLY happy I switched from BendBroadband to CenturyLink. I'm actually paying less and getting a faster and more stable internet connection. I feel like I've returned to the reliable and speedy internet connection I was used to before moving to Bend, hurray!! I don't have the kids complaining because someone's watching YouTube and someone else is watching Netflix so they can't use the internet because it keeps pausing (and I have 4 kids so this was quite an issue).
Now everyone can watch whatever they want and I can get the work done I need to using the internet and everyone is happy!
I will say this, from a customer service standpoint, not everyone is as friendly as the folks at BendBroadband. While some at CenturyLink seem happy to talk to you, others seem like they're doing the bare minimum. But that's ok to me because now that my internet is working all the time, I never need to call them, lol. With BendBroadband, I needed to call them quite a bit so I think the extra friendliness on their part was crucial to helping you not get any  more angry and frustrated then you already were with their service.
Bottom Line, Who's the Best?
Most of the time, CenturyLink will the winner. If you're getting either 20 Mbps or 40 Mbps then you'll be getting a better deal than what BendBroadband can provide. Their best deal is for their Bronze package which is $35/mo and you only get at most 15 Mbps download speed. They also have a usage cap of 200 GB which is easy to surpass if you watch a fair amount of streaming videos (ie. Netflix, YouTube, Amazon Prime, etc.). Whereas with with CenturyLink you'll get a more consistent 20-40 Mbps (depending on your area), a better upload speed and no usage cap.
The other benefit to using CenturyLink is they use a better quality modem. The Aris modem that BendBroadband has a problem with the IP address freezing up and you need to reset the modem fairly often. I can attest first-hand to how frustrating it is trying to use the internet this way…. *argh!!*  With CenturyLink, I haven't had any problems with that at all.
But again, it will not be in everyone's best interest to use CenturyLink which is why I recommend having someone like The Signal Spot evaluate your situation and explain your options. That way you can be fully informed about all the different variables and factors to make sure you're going with the internet provider that will give you the best experience between the two.
If you do decide to use CenturyLink, you can click here for my refer-a-friend link which you can use to get a pre-paid visa card (up to $75) for signing-up.
So hopefully this review and comparison was helpful. Please don't hesitate to leave a comment or question below. I think it would be great to hear what your experience has been with either of these companies as well 🙂